Extreme Joint Compound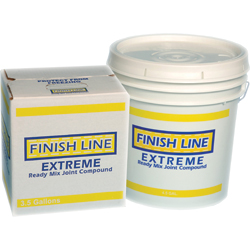 Finish Line Extreme Joint Compound is a ready to use, non-asbestos, vinyl-formulation for embedding drywall tape reinforcement, metal corner beads and drywall trims over wallboard. Extreme Joint Compound may also be used for filling, applying simple textures, and smoothing and finishing coats.


Finish Line Extreme Joint Compound Product Data:

Coverage: 120 to 155 lb for every 1200 sq. foot of gypsum board (Depending on conditions of application)
Storage: Protect from freezing or overheating and Finish Line products will have a shelf life of 1 year, under proper storage conditions.
Finish Line All Purpose Joint Compound is available in a 4.5 gal. pail or a 3.5 gal. box.
Download Material Safety Data Sheet
Download Product Information

Specifications:
Finish Line Joint Compounds are professional quality factory pre mixed vinyl based compounds. They are designed for embedding drywall tape, finishing wallboard joints, fasteners, corner bead and drywall trims. They also can be used for skim-coating, simple hand textures and patching cracks in plaster walls.

Standards:
Meets ASTM C475-89 (standard specification for joint compound and joint tape for finishing gypsum wallboard) and OSHA safety requirements
Advantages:
Factory pre mixed
Contractor and job site formulated
Easy to Sand
Low shrinkage and crack resistant
Superior Application Characteristics
Excellent Adhesion
Job Requirements and Storage:
Maintain 50o F minimum working temperature until dry and stable, avoid excessive heat, direct sunlight or freezing conditions
Coverage:
4.5 gallons covers at least 600 sq ft depending on job conditions and methods of applications
Available Packaging:
4.5 gal. pail
3.5 gal. box
Application:
Surface should be dry and clean prior to application, final wallboard finish should meet requirements of the five levels of gypsum board finish approved by the gypsum association
Precautions:
Wet sanding is recommended to avoid creating dust
Use eye protection and a respirator (OSHA approved) when dry sanding
Do not ingest
May contain mica, talc, limestone, perlite, plaster, clay and latex
Keep out of reach of children